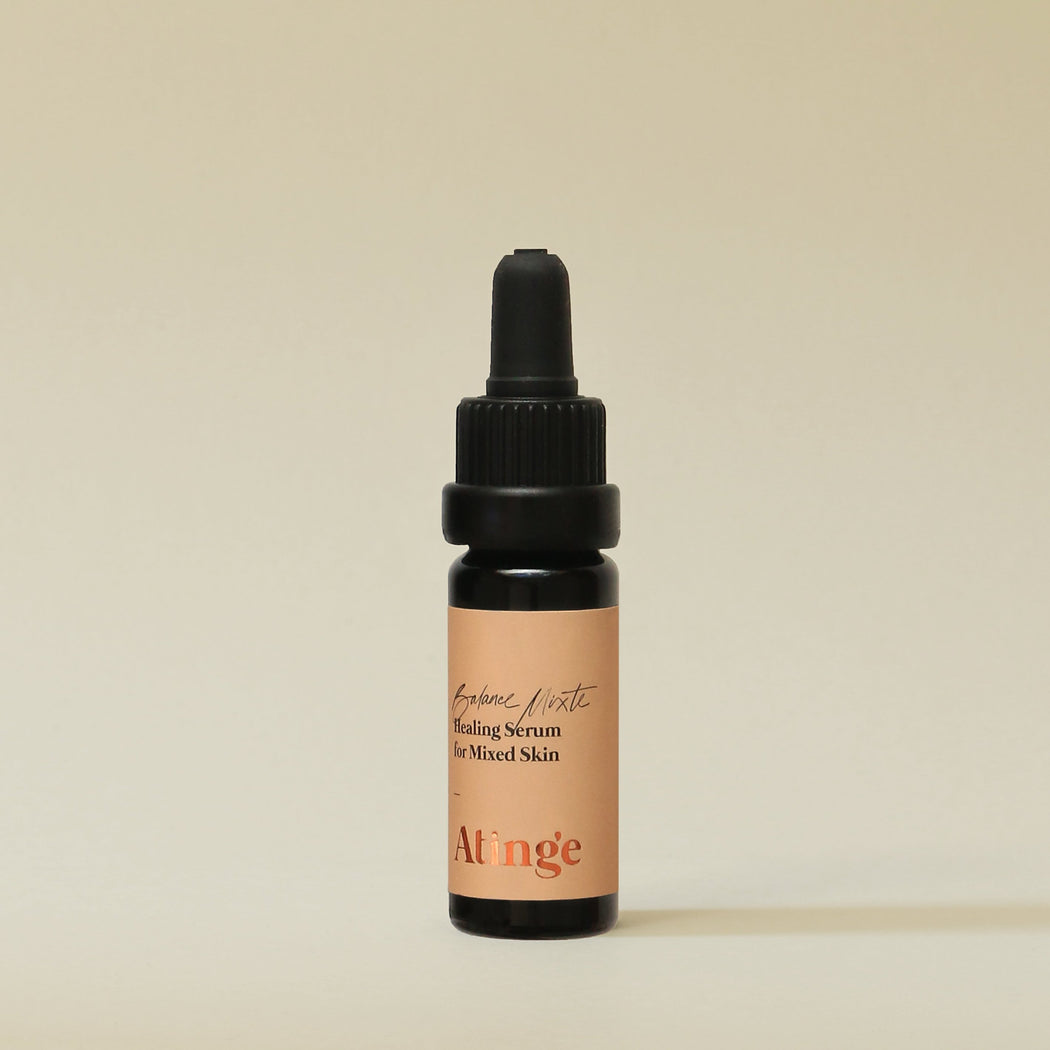 BALANCE MIXTE
Balance and heal combination skin / Deeply nourishing / Purify & Tonify
Skin Types: Mixed | Normal 

Daily use / morning and evening
2 Months Supply (Approx.)

BALANCE MIXTE is among the most acclaimed elixirs created by Atinge. It is recognised as an optimal solution for specific concerns of combination skin: acne, excessive sebum, dry areas. This ideal fusion of organic "super oils" works as a healing serum for problematic skin. When used regularly, BALANCE MIXTE reduces acne, regulates PH production and stimulates the regeneration of skin. This high performance formulation consists of some of the most potent natural ingredients on the planet. The black seed oil (nigella) is amongst our favourites, known for its anti-bacterial and anti-acne effects on the skin, as well as being a holistic panacea for the entire body. The watermelon and jojoba oils are fine, non-fat, refreshing oils. The sea buckthorn oil is a "super" oil for the skin is well-known for its anti-inflammatory and anti-bacterial properties, loaded with antioxidants and vitamins, being one of the most effective carotenoids. The green myrtle, lemon and bergamot essential oils are slightly astringent and invigorating, providing a relaxing and fresh Mediterranean scent. Cedarwood helps to regulate the production of sebum and the wild lavender is the ideal treatment for any type of skin.
RITUAL: Apply few drops of Balance Mixte on the slightly wet skin. Massage with upward and gentle movements, until the serum is absorbed into the skin. You can perform this beauty ritual in the morning and in the evening, on clean skin, preferably right after a applying floral mist. 

INGREDIENTS: cold-pressed black seed oil*, cold-pressed jojoba oil*, cold-pressed hazelnut oil*, cold-pressed borage oil*, cold-pressed sea buckthorn oil*, aromatherapy blend of wild lavender*, geranium bourbon*, green myrtle*, cedar*, lemon* and bergamot* essential oils, vitamin E.

*certified organic ingredients